Posted on | Wednesday, October 26, 2011 | 2 Comments
Starting in November i will be posting an outfit a day as part of this month long challenge: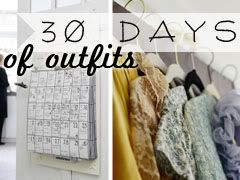 check out Ashley's blog where i learned about this challenge. if you're feeling up to the challenge join along and link up your outfits. i've been in a major fashion rut. i used to get all fine looking and now i just walk out of the house a hot mess. 30 days, 30 outfits.. let's do it.

Comments